[ad_1]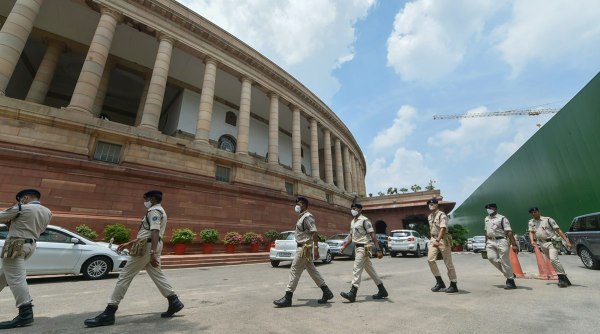 Security personnel at Parliament House during ongoing Monsoon Session, in New Delhi. (PTI)
Directing the Delhi Development Authority (DDA) to go ahead with the demolition of unauthorised jhuggis on the Yamuna floodplains only in consultation with the Delhi Urban Shelter Improvement Board (DUSIB), the Delhi High Court has said people cannot be evicted "with a bulldozer at their doorstep early in the morning or late in the evening, without any notice, rendering them completely shelterless".
Justice Subramonium Prasad said the action of the DDA in removing a person, whom they claim to be an encroacher, overnight from his residence, cannot be accepted. "A reasonable period has to be given to such persons and temporary location has to be provided to them before embarking on any demolition activities," said the court, while directing the DDA to give sufficient time to dwellers to make alternate arrangements.
'Don't know what will happen, but I feel safer': More Afghan Sikhs arrive in India
Hugging his elder brother, Jagjeet, who had just arrived at the Delhi airport from Afghanistan, an emotional Amarjeet said, "I have been waiting for him for a year now. We have always been together and I won't leave my brother again. He has suffered a lot there. I will help him and his children get jobs here." Jagjeet, who owned a department store in Afghanistan's Jalalabad, and his sons were among at least 28 Afghan Sikhs who were evacuated to India on Wednesday.
The evacuation was facilitated by the Shiromani Gurdwara Prabandak Committee (SGPC) in coordination with India World Forum and the Government. Concerns about the security of Sikhs in Afghanistan have risen since the attack on a gurdwara in Kabul in June, which killed two people. SGPC officials said around 65-70 people have been evacuated recently, and that more would be brought to India as soon as their visa applications are cleared and planes are arranged.


[ad_2]

Source link